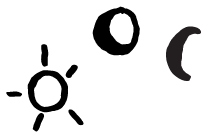 BOM
DIA
BOA
TARDE
BOA
NOITE
Rosa-Luxemburg-Strasse 17
10178 Berlin
Germany
t. +49 30 234 573 55
books@bomdiabooks.de
Newsletter
BOM DIA BOA TARDE BOA NOITE means 'good day, good afternoon, good night' in Portuguese. The name conveys the idea that books can become an integral part of our everyday life – regardless of the time of day. BOM DIA BOA TARDE BOA NOITE was founded by Manuel Raeder and Manuel Goller in Berlin in 2011, has been run by Manuel Raeder since 2013, and since 2019 together with Elena Malzew.
BOM DIA BOA TARDE BOA NOITE is a small independent publishing house, a community of artists, graphic designers, authors, curators, cultural workers, craftsmen and craftswomen.
We specialize in artist books that are conceptualized as a part of an artwork or as the artwork itself. We attempt to play with the format of the book and reflect its medium. All of our books are produced in close collaborations with the artists themselves. Biannually, an editorial board meeting consisting of internal members of the publishing house and external advisers review all submitted books and project applications. The realisation of future endeavours is decided collectively.
Working in the long-standing tradition of alternative publishing practises, BOM DIA BOA TARDE BOA NOITE focuses on collaborations with younger, not yet established artists or artists from outside of North America and Western Europe, i. e. from outside of an eurocentric discourse.
Distribution
Les presses du réel
Skylight Books
Antenne Books
Stockists
Germany:
Pro qm, Berlin
Zabriskie, Berlin
Selected Walther König shops
Bücherbogen am Savignyplatz, Berlin
Felix Jud, Hamburg
The Netherlands:
Erasmus Boekhandel, Amsterdam
Witte de With, Rotterdam
Belgium:
Wiels, Brussel
rile*, Brussels
France:
Flammarion – Centre Pompidou, Paris
Christophe Daviet-Thery, Paris
After 8 Books, Paris
Liebrairie Erasmus, Paris
LUMA, Arles
Liebrairie Prado Paradise, Marseille
Spain:
La Central Bookshop, Museo Nacional
Portugal:
STET, Lisbon
Lithuania:
Six Chairs Books, Vilnius
USA:
Ooga Booga at Hammer Museum, Los Angeles
Printed Matter, New York
Wendy's Subway, New York
Korea:
The Book Society, Seoul
Mexico:
Kurimanzutto, México City
Casa Bosques, México City
RRD, México City
La increíble librería, México City
LA SEÑORA, Oaxaca
Japan:
Utrecht, Tokyo
Ordering
By ordering goods, by clicking on the button »Proceed to Checkout«, the Customer makes a binding declaration of his/her intention to purchase the ordered goods. BOM DIA is entitled to accept the contractual offer contained in the order within two weeks of receiving it. Declaration of acceptance leading to a conclusion of the contract may either be in written form or through the delivery of the goods to the Customer. If the Customer orders the goods electronically, BOM DIA will confirm receipt of the order immediately in writing or by e-mail specifying the stored order and contract data and these contractual conditions. However, such confirmation of receipt shall not constitute binding acceptance of the order. Delivery takes place subject to the availability of the goods. If the ordered item has not yet been published the order shall, where possible, be noted. In the case of items that are already out of stock, the Customer has the choice of cancelling the order or having his/her name put down for a possible reprint or new edition. Delivery terms are non-binding in all but exceptional cases where the delivery date has been guaranteed. If suppliers fail to deliver the ordered goods despite being under a contractual obligation to do so, BOM DIA is entitled to withdraw from the contract. The Customer will always be informed immediately of the non-availability of an item. The purchase price paid will then be immediately refunded.
Prices
The prices valid on the date of order will be charged. The Customer pays the purchase price including delivery charges in advance by PayPal.
Delivery
Packaging and delivery are billed to the customer. These charges are calculated as follows:
Shipping within Germany: € 4.00
Shipping within Europe: € 9.00
Shipping worldwide: € 30.00
The delivery time in Germany ranges between approximately 3–4, in Europe between 5–10, and worldwide between 10–30 working days.